Palestinian Leaders Reach the Israeli Public
by Adeena Schlussel on behalf of Daniel Lubetzky
The Geneva Initiative has launched a new campaign in partnership with USAID which broadcasts messages from Palestinian leadership for the Israeli public.  The short clips featuring different Palestinian leaders all vary but pivot around one shared message- that there is a Palestinian partner for a peace and the opportunity to reach an agreement should not be missed.  To date, figures in the campaign include Cheif Palestinian Negotiator Saeb Erakat, Secretary-General of the PLO Executive Committee Yasser Abed Rabbo, Palestinian Foreign Minister Riad Malki, Memer of the Fatah Central Committee Jibril Rajoub, and Former Member of the Negotiating Team and PA Minister Sufyan Abu Zaidah.  Each message begins with "shalom" and ends with uniform, powerful promise: "I am your partner.  Are you mine?"  To watch the first three clips, click on the following image: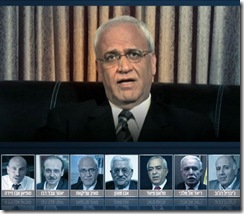 related posts
Here is a tidbit that Tom Pickering, the ultimate American Diplomat and member of the PeaceWorks Foundation's Honorary Board, shared with me last time I met him: The Israeli-Palestinian peace process is like riding a bike: if you are not going forward, you are falling down.

The OneVoice Movement has been running for the past couple years a program called Imagine 2018, where they are asking Israelis and Palestinians to share their vision of what their lives and future would look like if the conflict were to be resolved and a two state solution achieved. OneVoice will soon be unveiling its [...]

You may be surprised to learn about some of what is happening in Gaza.  Read this letter: Dear All, Onevoice movement in the Gaza Strip expanded its campaign and organized its fifth Town Hall Meeting in the North of the Gaza Strip. The Objective to introduce the Movement & gather support for the two states [...]

The Huffington Post published an article I wrote about the imperative of mobilizing to end the Israeli-Palestinian conflict once and for all, before it's too late and before Ahmadinejad turns it into a truly intractable conflict.