Harriet Green: A most influential woman
Harriet Green, OneVoice board member and an old friend, was just ranked in the top 50 women in world business in 2011.  She is the highest ranking business woman of the UK and that is not for lack of good company!
To see more about this honor, see here!
Financial Times Online
November 15, 2011 12:47 pm
The top 50 women in world business 2011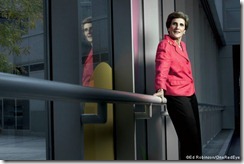 There are two ways to explore the top 50 businesswomen in this year's Women at the Top ranking.
Our interactive graphic offers a visually stimulating look at the women on our list, along with biographical information, photographs and profiles. It also displays last year's top 50.
Otherwise, to read full profiles and view photographs of the women in our ranking, click on a name below.
The top 50 was selected by an expert jury, whose choices were based on information on the executives' performance and durability.
Also available is the alternative list, comprising senior businesswomen who did not quite make it on to the main ranking this year because of the nature of their position or company or due to the ranking criteria.
THE TOP 50
1. Irene Rosenfeld (Kraft Foods)
2. Güler Sabanci (Sabanci Holding)
5. Andrea Jung (Avon Products)
7. Dong Mingzhu (Gree Electric Appliances)
9. Yoshiko Shinohara (Temp Holdings)
10. Chanda Kochhar (ICICI Bank)
15. Alison Cooper (Imperial Tobacco)
16. Cynthia Carroll (Anglo American)
17. Nancy McKinstry (Wolters Kluwer)
18. Vinita Bali (Britannia Industries)
19. Chua Sock Koong (Singapore Telecommunications)
20. Emma Marcegaglia (Marcegaglia)
21. Li Xiaolin (China Power International Development)
23. Nahed Taher (Gulf One Investment Bank)
24. Cheung Yan (Nine Dragons Paper)
26. Chu Lam Yiu (Huabao International Holdings)
27. Gina Reinhart (Hancock Prospecting)
28. Ilene Gordon (Corn Products International)
29. Sara Mathew (Dun & Bradstreet)
30. Harriet Green (Premier Farnell)
33. Ruby McGregor-Smith (Mitie Group)
34. Lynn Laverty Elsenhans (Sunoco)
37. Kiran Mazumdar-Shaw (Biocon)
38. Anita Zucker (InterTech Group)
40. Nicola Leibinger-Kammüller (Trumpf)
41. Janet Robinson (The New York Times Company)
42. Ho Ching (Temasek Holdings)
44. Shobhana Bhartia (HT Media)
45. Maggie Wilderotter (Frontier Communications)
47. Olunfunke Iyabo Osibodu (Union Bank of Nigeria)
49. Marie-Christine Coisne-Roquette (Sonepar)
50. Laura Sen (BJ's)
30. Harriet Green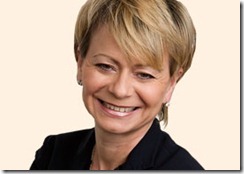 Company: Premier Farnell
Last year's position: 37
Age: 49
Nationality: British
Sector: Support services
Location: UK
Harriet Green has spent her entire career in the electrical components industry – not an obvious choice for a graduate in medieval history. She has led Premier Farnell, a distributor of electronic and industrial components, since 2006, having joined from Arrow Electronics, where she was president of Arrow Asia Pacific.
Premier Farnell stocks more than 400,000 components, has operations in 32 countries and employs approximately 4,100 people. It also provides services and information.
Green is a strong advocate of board and corporate diversity – not just gender. She serves as a non-executive director on the board of BAE Systems, the UK defence contractor. Last year she received an OBE for services to industry.