How MF Global has depleted funds and fields
Read this heartbreaking article to see the story of Dean Tofteland and how he has carried out his father's legacy despite hazards and obstacles.  But the MF Global scandal, "a financial tsunami,"  really "hurt so much," and poses unprecedented hardships that must be addressed.
Spotted by Daniel Lubetzky, by Adeena Schlussel
Farmer faces planting season with seeds of distrust
By Wayne Drash, CNN
Luverne, Minnesota (CNN) — Dean Tofteland promised to take care of the farm while his father was on vacation.
"I want you to go ahead and enjoy yourself," he told him.
The small private plane carrying Arnie Tofteland never reached its destination. It ran out of gas on the way to Indianapolis, fell from the sky and struck the backstop of a baseball field before slamming nose first into the pitcher's mound.
Dean, then just 27, had come home to the farm for a short stint; he hoped to enter the world of agribusiness. Suddenly, he was thrust into the role of carrying on his father's legacy.
Twenty-three years later, he drives through his corn and soybean fields in the southwestern corner of Minnesota. "I'm still taking care of it," he says. "It's not just a way of life. It's a part of my life."
Tofteland held the farm together after his father was killed, survived drought and the great flood of 1993. Then, commodity prices sank in the mid-1990s. And like most farmers, he has seen too many friends die young.
Such are the hazards of life on a farm.
But all that Tofteland has worked for was nearly lost in one fell swoop last October. This time, it wasn't a crisis brought on by tragedy or Mother Nature. It was the work of Wall Street and commodity power players in Chicago, a scandal that has become known simply as MF Global.
Tofteland had $253,000 in an account with the brokerage firm, money he planned to use to cover his farm's operating loan. As MF Global went bankrupt last fall, customers' segregated accounts were raided in clear violation of exchange rules. When the dust settled, more than 38,000 MF Global customers — including thousands of farmers, ranchers and grain operators who used the firm to hold money for transactions on the futures market — were out more than $1.2 billion.
On a recent February day, Tofteland points to the stirrups hanging in his barn. They've been there since the 1930s, when the first tractor arrived. Nearby, his fields stretch nearly to the horizon.
His seed bill last year was $230,000; fertilizer cost $150,000. In addition to his own land, he farms acreage he rents at a cost of $450,000. He has another $1 million tied up in equipment, plus four full-time employees. "We're talking big numbers, and you're taking all these risks," he says. "And you can get hailed out, droughted out, flooded out at any time."
That's why the MF Global scandal hurt so much: a financial tsunami that nearly wiped everything away. Tofteland had come to rely on the futures market. So eroded is his trust in the system, he hasn't used it since.
He notes he can track a hog from his farm to somebody's table. Yet somehow, he ponders, authorities haven't fully tracked the missing $1.2 billion, or who was behind it.
"It's either ignorance or fraud," he says. "Money doesn't vaporize. If my account is empty, somebody else's is full."
Tofteland opens the door to one of his four hog barns. More than 250 piglets scamper in pens in the climate-controlled barn. The smell is so wretched it takes every ounce of strength for a newcomer not to vomit. The analogy is inescapable: What stinks worse, a hog barn or …?
Tofteland doesn't even pause to think. "I would say MF Global. Our money was stolen and nobody is being held accountable."
'Money they just took'
From the cornfields of the Midwest to the cotton fields down South to the large cattle ranches out West, the MF Global scandal has rocked the tight-knit farming community.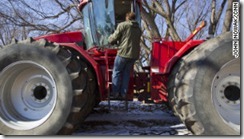 Dean Tofteland has withstood farm crises before, but the MF Global scandal nearly wiped him out.
Some farmers lie awake at night, unable to sleep, worried about bill collectors and the system they'd come to trust. As planting season nears, they find themselves still out tens of thousands of dollars. Most don't want to talk on the record; they don't want their friends and neighbors to know they're down big money when they have a crop to put in.
Most of MF Global's customers have received 72% of their money back. Executives at the Chicago Mercantile Exchange and Chicago Board of Trade like to tout that fact as a great feat. But they'd better duck if they ever step foot on a farm — they might just get punched in the jaw.
Tofteland is still out $70,000.
"Pocket change for these guys, right," he says with disgust. "This money wasn't an investment. This was money that they just took. Maybe it's a fairy tale to most people, but if you lie or cheat or steal around here in this part of the world, you're out of business."
On this day, Tofteland is on the move. He leaves his farm outside Luverne, a quaint town of 4,700 that still has a theater downtown and a drive-in on the outskirts.
He stops in town to discuss a potential land deal, spins through his wind farm and then drives 23 miles to a feed and grain operator.
At Mouw's Feed & Grain in Leota, population 222, voices seethe with anger at the mention of MF Global.
"It sucks," says Mike Mouw, who runs the business with his brother, Brad.
The Mouws and their customers are men's men: leathery hands as tough as the pickups they drive, faces lined with wrinkles from too many hours working in the sun and rain and wind. They're skeptical of outsiders. They'd prefer to tend to business than speak with a reporter. But now the dam has burst.
Mouw spins around in his feed shop and leans over the counter to look an outsider in the eye. "You got money in a savings account?" he says. "If somebody was to take money out of there — I mean just take it from you — how would you feel?
"You'd hate it, just like we hate it. So that's why we're so fired up and pissed off."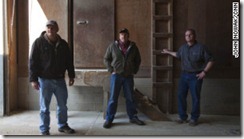 Dean Tofteland, center, with Brad and Mike Mouw at their grain shop in Leota, Minnesota.
The Mouw brothers run the business their father founded in 1950. The futures market is essential to their way of life: Hedging grain is what they do.
Farmers use the futures market to set a strike price on their crops before a seed is even planted. However, they can skip the futures market and sell directly to a grain operator, who contracts to buy the grain but uses the futures market himself to offset the price risk.
When word spread that MF Global was going bankrupt, the Mouws were reassured on a Friday that their money was safe: a segregated account had never been lost in the history of the commodity exchange.
By Monday, their $450,000 with MF Global was gone.
"Your business flashes before your eyes when something like that happens," says Brad Mouw. "I thought: This could take us down."
The two nod as they speak. Water fills their eyes. Their business remains strong, but the scandal caused undue stress. They're still owed more than $100,000, and there's a pile of legal fees from trying to get their money back.
For an industry that relies on the futures market, it is faith in the system that has been most rattled.
"Are we still safe?" says Brad Mouw. "We don't know any more."
He peers from beneath a baseball cap with the initials "MFG." He notes that the letters stands for their business — Mouw's Feed & Grain — not the company that took them for a ride.
On the hallowed ground built by their father, their voices grow animated. They raise pertinent points in spitfire fashion: In their view, the MF Global scandal amounts to the largest bank heist in U.S. history — so where's the national outrage? Where's the all-points bulletin for those responsible?
Money doesn't vaporize. If my account is empty, somebody else's is full.
Dean Tofteland
The Justice Department, the FBI, federal regulators and Congress have launched multiple investigations into what happened and who is to blame for the missing money. No indictments have been brought. Federal investigators have said the probe has taken months because they're scrutinizing scores of wire transfers to determine if a crime was committed.
At the center of the scandal is Jon Corzine, MF Global's CEO at the time and a highly connected Democrat who was once touted as a potential treasury secretary. Corzine also is a former governor of New Jersey and U.S. senator who President Obama once hailed as one of his "best partners" in the White House.
In congressional testimony, Corzine has said he knew nothing about the transfers of customer money.
That doesn't stop the Mouws from drawing conclusions. In fact, it feeds their questions: Does the lack of justice have anything to do with Corzine's strong ties to the White House and his former role as a top fundraiser for Obama? Why have the Occupy Wall Street protesters remained silent about the scandal and the eighth largest bankruptcy in U.S. history?
Rod Sas pulls up with a load of corn and strolls through the door. Decked out in a blue jumpsuit, he delivers more than grain on this day. He dishes up a mouthful. He didn't have money tied up with MF Global; his cash was held by a different firm. But farmers stand in solidarity.
The name Corzine swishes around like bad chewing tobacco. "He's Obama's big buddy is what he is," Sas says.
He's suspicious of any investigations of a Washington insider and millionaire Democrat. That right there, he says, explains why he's not behind bars.
"Indictments?" says Mike Mouw. "I doubt it's ever going to happen."
"It was a bail-your-buddies out program," Tofteland chimes in.
"What do they call that? Chicago politics," Sas says. "I don't see why people can get away with what they did."
As everyone parts this day, Brad Mouw hops in his F-250. "When you get my money back, let me know," he says out his window.
The farmer takes on MF honcho
Dean Tofteland's Minnesota roots are as firmly planted as his corn and soybean fields. His grandfather, who immigrated from Norway, began as a farmhand before buying his first chunk of land.
But Tofteland, 50, never expected to become the face of farming.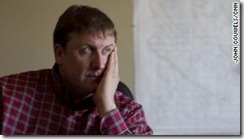 Dean Tofteland says he's fighting for farmers who are too afraid to speak out on the scandal.
A father of four children ranging in age from 8 to 16, he prefers traveling two hours away to his sons' hockey games than flying to the nation's capital. But when the MF Global story hit, he spoke to the local newspaper about his ordeal. Soon, he was on a plane to testify before the Senate Agriculture Committee. (The trip cost him $3,000 out of pocket, plus a new suit.)
"Business failures are nothing new. They happen every day on Main Street. The difference in this case is the missing money," he told the committee in December. "We all know if our personal bank account is one penny overdrawn, the bank knows about it. … What they call 'unlawful comingling' on Wall Street is called stealing back on Main Street."
Corzine sat just two seats away. He glowered at the farmer as he spoke. When Tofteland finished, he stared back. "Corzine looked down," Tofteland says. "I think he was probably looking down to see if I was going to trip him.
"It was almost surreal, because this man who is blood and flesh like myself and other human beings acted, in my opinion, very arrogant. He affected a lot of people, and his words don't match up with his actions."
Corzine, who resigned in the wake of the scandal, testified that money from the customer accounts was taken but that he didn't know it at the time. Terrence Duffy, head of the exchange operator CME Group, testified to the contrary: that Corzine had been aware of at least some transfers.
Almost as soon as the hearing ended, Tofteland made the rounds on cable news shows and business networks: the farmer who stood up to the MF big shot. At the time, he figured MF Global customers would soon get their money back and "the biggest crooks" would be charged.
"I'm asking: Where's the Justice Department?" he says now, more than two months after his testimony.
Tofteland shrugs. He knows he's just one farmer up against the system. If other farmers are afraid to speak, he sees it as a moral imperative to speak for all.
"I just keep thinking about all those people out there that are affected and aren't able to have a say in what happens."
Tofteland's big rig kicks up dust as it travels the gravel road to his farm. He's returning from dropping off about 1,000 bushels of corn at a local ethanol plant.
The modern farm is one of complete efficiency. Tofteland's corn goes to the ethanol plant; the byproduct is then used for livestock feed. The ethanol runs his truck. His soybeans head to a biodiesel plant; his tractors are fueled by it.
Even his hog manure doesn't go to waste. It's saved and spread over the fields as fertilizer. He has also helped spearhead farmer-owned wind farms in the region. They hire locally and pour money back into the rural economy, as well as provide green power.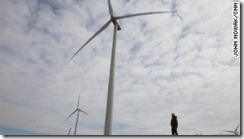 Dean Tofteland checks out a wind turbine in southwestern Minnesota.
"Combines in the sky," he calls the wind towers.
His motto: "The most important thing a farmer can apply to his land is his footprint."
Pride and dignity are ingrained in his blood. His dad was a car salesman and drag racer, won the national championship in 1972. But farming is what he loved. By 1976, he bought the land his son now farms.
At the height of the farming crisis in 1985, the elder Tofteland told his son: "Go do something else." Dean went off to college and got a job at the grain exchange in Minneapolis. He helped create a marketing plan for a road deicer made from a byproduct of corn while in college. Job offers rolled in.
Yet Tofteland wanted to soak up the farm operation before he left for good. His plan: spend a year with Dad and learn the family business.
But then, his father got on that ill-fated flight. He was 50 when he died, the same age Tofteland is today.
He keeps a dusty 1967 Pontiac GTO — his father's favorite racer — in his machine shop. One of these days, he'll honor him by restoring it.
Soon, he'll honor Dad in another way. He'll till the land and plant for another season. He'll swell with pride when the fields turn golden brown by October. "It's a great, great feeling to bring the crop in after you've worked on it all year."
Until then, he'll keep hounding MF Global. He's used to his boots getting muddy: Fighting for the common man might just become his most lasting footprint.
related posts
I just got this very cool invitation from Laurel Rapp, who runs our International Education Program… You're Invited: Global Town Hall Meeting (webcast live to your classroom!) Ever wonder what young Israelis and Palestinians growing up in conflict zones hope for, dream about, and are working to change? Ever wonder what both groups are doing [...]

This fascinating article doesn't directly address global governance. But the increasing uses of information and technology at the municipal level portend positively for models for global governance for the 21st century. And at all levels, this trend hints at the sweeping changes that will come in how we leverage data.

A recent stipulation in the ugly MF Global saga states that MFG Assurance should be able to pay defense costs that MF Global has incurred since its bankruptcy, even though MF Global customers are still missing $1.2 billion.  Consumer funds were treated improperly both in the way that they were illegally pulled, as well as [...]