Encountering peace: Identifying when a crisis can become an opportunity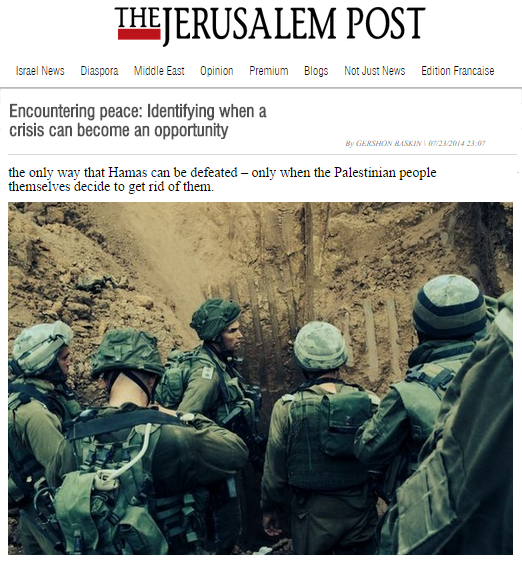 Brig.- general S, a Palestinian in the Palestinian Liberation Army, spent his whole adult life fighting Israel. In 1993 Yasser Arafat, his leader, signed the Olso agreement and turned S's world upside down. Not only that, Arafat appointed him to be the first Palestinian officer from the PLA to enter Gaza. S was ordered by Arafat, in agreement with Israel, to transport a couple of APCs from a PLA base in Libya to Gaza. All of the arrangements were made. He would enter Gaza with the APCs from Sinai. He arrived at the scheduled time – without the APCs.
The Israeli officers who greeted him asked him what happened, and he explained that the APCs had broken down in Sinai. The Israeli officers phoned their Egyptian liaisons and arranged for IDF trucks to enter Sinai to pick them up. Still extremely nervous regarding his first close encounter with the enemy, S accompanied the Israeli trucks and together they brought the APCs into Gaza.
When they crossed the border into Gaza, they continued on to an IDF garage to get the APCs fixed. The Israeli officers explained that the IDF would fix them and return them after a few days. S's whole life changed in an instant.
Who are these people, he asked himself? These are the people I spent my life fighting? S was appointed deputy military liaison to the IDF and over the next few years developed real friendships with many Israelis. I was one of them. He visited me in my home. I visited him. I met his wife and children.
One day in early 1995 he asked me to come to Gaza. I met him at the Erez crossing, where he picked me up in a jeep, along with two other jeeps full of armed soldiers. He took me on a tour of Gaza. We drove all over. We had a nice lunch at one of the beach hotels – they even served beer in those days. All day long I knew he wanted to tell me something, but I didn't want to rush him. He knew that I was serving as an adviser to a team of intelligence officers that prime minister Yitzhak Rabin had assembled to advise him on the peace process, and as such had direct access to the prime minister.
After we had dinner in his home, this is what he told me: "Gershon, I want you to tell the prime minister that under Rafah, under the Philadelphi road, there are at least 35 tunnels and weapons are being smuggled into Gaza."
I asked him why he didn't take care of them himself, to which he replied that his hands were tied and he couldn't do anything. But, he added, "If Israel doesn't take care of this, it will blow up in our faces."
Immediately after I left Gaza, I called the prime minister's office from my car and reported what I had heard to one of the team members. I never heard about the tunnels again and assumed that Israel had in fact taken care of them.
Thanks to the Iron Dome missile defense system and safe rooms the rocket threat to Israel has been significantly diminished. Nevertheless, millions of Israelis are still under threat of rocket-fire, which is a war crime and cannot be tolerated. However, it turns out that Israel has discovered a much larger threat – Hamas's tunnels into Israel. A tunnel leading to a kibbutz or to Sderot could enable an act of mega-terrorism and it is clear that Israel cannot end this war without ensuring that this threat is removed.
US Secretary of State John Kerry has shown up in the neighborhood again, this time backed up by UN Secretary General Ban Ki-moon. Both of them have called for an immediate cease-fire. It seems to me that neither Israel nor Hamas is ready for a cease-fire; both want more time to accomplish their goals. Israel is likely to say yes to almost any proposal only because it is quite sure that Hamas will reject it – why not be the good guys for a change? It is clear to me, as I have been writing over the past weeks, that the only good end to this war will be one that includes three elements: military-security, economic and political. Gaza is a place where young people (the overwhelming majority of the 1.7 million people living there) have no future and no hope for a better life. Gaza is a place where for many death is more appealing than life. And in places like that you get movements like Hamas.
If we don't want to be in the same place, only worse, in a few years from now (or less), we must seek to change the essence of life in Gaza. Palestinian Authority President Mahmoud Abbas has emerged as a true partner, and it is with him that we need to work out a deal. We must recognize him as the president of all of Palestine, West Bank and Gaza, the head of the national reconciliation government. We must not negotiate with Hamas.
Through Egypt, Jordan and the Arab League we must agree to a multi-lateral, primarily Arab force, led by the Palestinian government, that will demilitarize Gaza. John Kerry can undertake to provide a special force, led by the US, that will be stationed on the Gaza side of the Israel-Gaza border and with sophisticated seismic and satellite technologies work to uncover and destroy all of the remaining tunnels, this whole operation to be supported by a UN Security Council Resolution.
Hamas will obviously not agree to any such arrangement.
But with the other two elements – political and economic – Prime Minister Binyamin Netanyahu and Abbas will enter into direct, genuine and serious negotiations with decisions being taken to end the Israeli occupation and to create the non-militarized Palestinian state next to Israel with all permanent status issues on the table and worked on.
The international community will establish a fund for the reconstruction of Gaza and the West Bank – dealing with infrastructure – water, electricity, housing, schools, education, industry, etc. The Palestinians will direct the investment of the money with proper and close international oversight.
If the end result of this war earnestly answers the underlying issues and addresses the impossibility of continuing to keep Gaza an open air prison, there is a very good chance that the Palestinian people will get rid of Hamas. If the Palestinian people understand that they have a real chance at freedom and being able to live like everyone else wants to live in this world, they will have a reason to live, and they will no longer need Hamas. This is the only way that Hamas can be defeated – only when the Palestinian people themselves decide to get rid of them.
Israel can bring down Hamas by force and even kill all of its leaders, but the next generation of leaders will fill the void very quickly and they will be even more full of hate and rage than their predecessors. It is time to break the chain of death and hatred. This war could be turned into an opportunity. We have more partners in the region who would work with us to do this than ever before. We should not miss another opportunity for peace.