ENCOUNTERING PEACE: War, Gaza, defeat and victory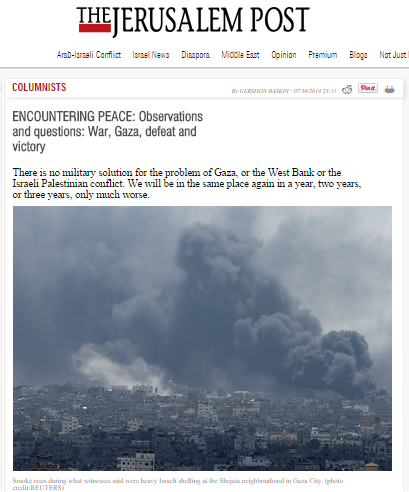 Hamas must be defeated. There is no argument about that. When this war ends it is quite clear that Israel wants Hamas to be weakened, even defeated, and for the people of Israel to never again have to face the threats of rocket fire from the Gaza Strip or fear infiltration tunnels into their communities.
Israel believes that it is hitting Hamas with so much firepower that Hamas will understand it cannot challenge Israel's might. Israel is convinced Hamas will think 70 times before launching another attack because of the enormous damage inflicted on Gaza and to its people. Israel is hoping that the people of Gaza will finally stand up to Hamas and say to them: Get out of our lives, you have brought us nothing but death and destruction.
But at the end of this war both sides will declare victory. Hamas will never surrender.
There will not be a white flag raised by Hamas leaders, no matter how much of Gaza is destroyed. At the end of the war the Hamas leaders will emerge from their underground shelters and declare victory. They will praise the heroes of Gaza for surviving the onslaught of the mighty Israeli military machine. The destruction of Gaza will be seen as another chapter in the Palestinian nakba, or catastrophe, at Israel's hands. Most Gazans will blame Hamas, it's true – but they will not do it out loud.
Hamas will talk about the courageous fighters of the resistance. They will speak about rockets putting millions of Israelis into shelters and a million Israelis running away from their homes.
They will talk about the many surprises they prepared, killing tens of Israeli soldiers – attacks from land, sea and air. They will talk about shutting Israel's civil aviation down. Almost none of the leaders and military commanders of Hamas were killed. They will emerge from the war intact and in control. They will believe that they dictated the pace of the war and dragged Israel deeper and deeper into Gaza.
They will believe they have shown the world the evil face of Israel, and the Israeli people how weak their state is.
Like in 2012, no deterrence will have been created. Gaza will end up with some of the benefits of the internationally arranged ceasefire such as a beginning of the end of the full economic blockade. Hamas will take full credit for those achievements.
Before the war, before the murder of the three Israeli teens from Gush Etzion, Hamas was at its weakest point since its founding. It is estimated that it had no more than 15 percent support from the Palestinian people, including in Gaza. Hamas was financially bankrupt and fully capitulated to Palestinian Authority President Mahmoud Abbas. Hamas is now stronger than it has been in years. Despite all of the destruction and suffering, Hamas is seen as the only group in the Middle East that stands up to Israel's power and occupation. If Gaza opens up, Hamas will have won in the eyes of the people. And Gaza will open up, because keeping 1.8 million people locked up is inhuman and wrong and no one in the world (except Israel) is willing to accept it any more.
It is very sad, but if this is how the war ends, this will not be the last round. It won't end here because none of the real issues that led us to here will have been addressed. The occupation will continue, there will be no genuine peace process. The moderates in Palestine will be weakened and the extremists will triumph.
And the people on both sides will lose.
But Israel will also declare victory and claim that it dealt a death blow to Hamas, eliminating the threat of rockets and tunnels.
This is not the end of the conflict. Nothing has been resolved. There is no military solution for the problem of Gaza, or the West Bank or the Israeli Palestinian conflict. We will be in the same place again in a year, two years, or three years, only much worse.
Hamas cannot defeat Israel, but just as Israel improves from war to war, so does Hamas.
Hamas does not have to import weapons, explosives and rockets to hurt Israel. It has proven its high level of motivation and ability to hurt Israel. There is no reason to believe it won't have even more effective tactics in the future. I can think of many, and if I can think of them, anyone can, and I am sure that Hamas will. And if Hamas isn't the enemy, it will be a group far worse than Hamas. Just look at Bush's "victory" in Iraq.
Only if we finally address the real issues – the occupation, the continued suffering of the Palestinian people, the need to negotiate a real and comprehensive peace, will we put an end to this suffering, destruction and killing.
Palestinians will never give up their rightful demand to live as a free people in their own state. The young people in Gaza, who have no future, will not give up their rightful demand to live as young people do all over the world with hopes and dreams for a career, a family, a decent living, the freedom to move and the freedom to determine one's own future.
There is a way out of this mess. There is a merging of interests in the region between the moderates against the extremists. This is what can bring us together and work for a durable peace. It must be a regional effort, and regional security and stability can be achieved for the benefit of both Israel and Palestine. This is a complex process and will take time, but it is doable.
But first the prime minister of Israel must decide that he is ready for this. Until now, he has not been ready for it, and in fact has been the main obstacle to achieving it.
I cannot comprehend why the government of Israel is waiting for someone else to propose solutions. Please, please explain to me why the Israeli government has no political initiative and why is no one asking them this question. What and who is Israel waiting for? The Americans? The UN? Egypt, Turkey or Qatar? Please help me to understand why Israel, the startup nation that seems to have generated another genius idea every morning has no political initiative. This makes no sense to me. Israel must take control of its destiny, not only with the sword and shield but also with the tools of diplomacy and the creativity of statesmanship.
Israel has lost this war in the international arena. The media around the world (not in Israel) has vividly shown the horrors of Israeli bombing in Gaza. More than 1,200 dead, 5,000 wounded, hundreds of non-combatants, women and children. Yes, Hamas is perceived as a bitter enemy in the world's media, but Israel is portrayed as being even worse.
Anti-Semitism is running rampant around the world, not because everyone hates Jews (although some do) but because what Israel has done to the people of Gaza. There is no way to explain the pictures that everyone (except Israelis) see. No one can explain the pictures of dead children. No one can fathom the extent of total ruin of whole neighborhoods.
No one can explain the bombing of Gaza's only electricity plant.
The only way Israel can turn this around is by adopting an initiative which advocates peace, without compromising on security, but willing to end the occupation and the blockade of Gaza and allowing Palestinians to have their freedom.