I am a Muslim. But Trump's views appall me because I am an American.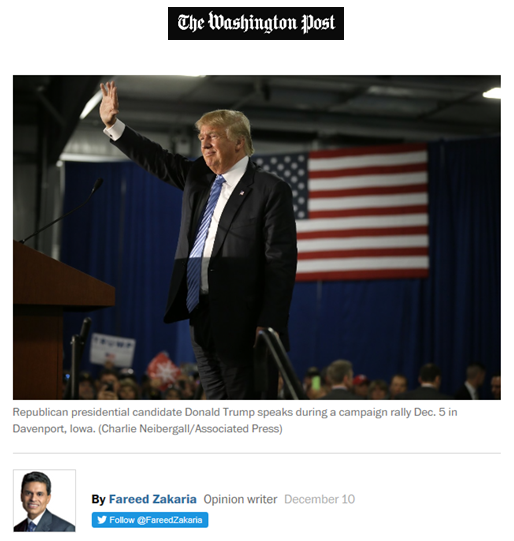 I think of myself first and foremost as an American. I'm proud of that identity because as an immigrant, it came to me through deep conviction and hard work, not the accident of birth. I also think of myself as a husband, father, guy from India, journalist, New Yorker and (on my good days) an intellectual. But in today's political climate, I must embrace another identity. I am a Muslim.
I am not a practicing Muslim. The last time I was in a mosque, except as a tourist, was decades ago. My wife is Christian, and we have not raised our children as Muslims. My views on faith are complicated — somewhere between deism and agnosticism. I am completely secular in my outlook. But as I watch the way in which Republican candidates are dividing Americans, I realize that it's important to acknowledge the religion into which I was born.
And yet, that identity doesn't fully represent me or my views. I am appalled by Donald Trump's bigotry and demagoguery not because I am a Muslim but because I am an American.
In his diaries from the 1930s, Victor Klemperer describes how he, a secular, thoroughly assimilated German Jew, despised Hitler. But he tried to convince people that he did so as a German; that it was his German identity that made him see Nazism as a travesty. In the end, alas, he was seen solely as a Jew.
The tragedy is that, unlike in Europe, Muslims in the United States are by and large well-assimilated. I remember talking to a Moroccan immigrant in Norway last year who had a brother in New York. I asked him how their experiences differed. He said, "Over here, I'll always be a Muslim, or a Moroccan, but my brother is already an American."
In an essay in Foreign Affairs, British writer Kenan Malik points out that in France, in the 1960s and '70s, immigrants from North Africa were not seen as or called Muslims. They were described as North Africans or Arabs. But that changed in recent decades. He quotes a filmmaker who says, "What, in today's France, unites the pious Algerian retired worker, the atheist French-Mauritanian director that I am, the Fulani Sufi bank employee from Mantes-la-Jolie, the social worker from Burgundy who has converted to Islam, and the agnostic male nurse who has never set foot in his grandparents' home in Oujda?" His answer: "We live within a society which thinks of us as Muslims."
Once you start labeling an entire people by characteristics such as race and religion, and then see the whole group as suspect, tensions will build. In a poignant article on Muslim American soldiers, The Post interviewed Marine Gunnery Sgt. Emir Hadzic, a refugee from Bosnia, who explained how the brutal civil war between religious communities began in the Balkans in the 1990s. "That's what's scary with [the] things that [Donald Trump is] saying," Hadzic said. "I know how things work when you start whipping up mistrust between your neighbors and friends . . . I've seen them turn on each other."
I remain an optimist. Trump has taken the country by surprise. People don't quite know how to respond to the vague, unworkable proposals ("We have to do something!"), the phony statistics, the dark insinuations of conspiracies ("There's something we don't know," he says, about President Obama) and the naked appeals to peoples' prejudices.
But this is not the 1930s. People from all sides of the spectrum are condemning Trump — though there are several Trump-Lites among the Republican candidates. The country will not stay terrified. Even after San Bernardino, the number of Americans killed by Islamist terrorists on U.S. soil in the 14 years since 9/11 is 45 — an average of about three people a year. The number killed in gun homicides this year alone will be about 11,000.
In the end, the United States will reject this fear-mongering and demagoguery, as it has in the past. But we are going through an important test of political and moral character. I hope decades from now, people will look back and ask, "What did you do when Donald Trump proposed religious tests in America?"