For Vulnerable Teenagers, a Web of Support – THREAD
This is a great piece about Thread, a wonderful program we are proud to have been introduced to by the Weinberg Foundation.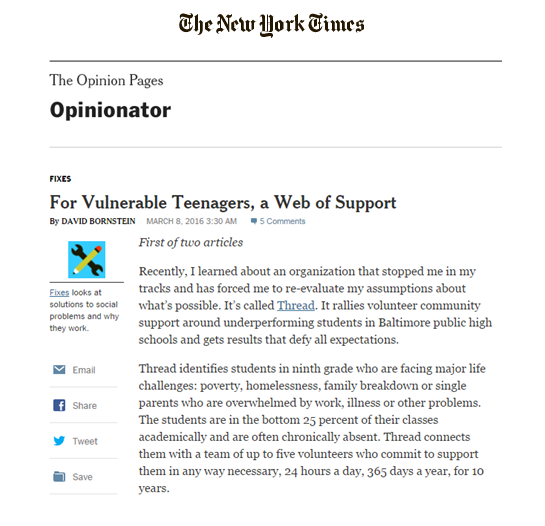 The assistance may include wake-up calls or rides to school, food and clothing, child care or legal help, connection to community service opportunities, help finding jobs, tutoring, SAT preparation or college admission guidance. The philosophy is to do whatever it takes to help the teenager develop into an adult who can pursue a fulfilling life. "A volunteer may literally go at 7 a.m. and try to pick the kid up for school, a second person may go at 10 a.m., another person at noon," explains Sarah Hemminger, a Thread co-founder and the chief executive. Volunteers take students to restaurants and movies; they hang out and talk about life; they go camping; they sometimes provide homes to students.
The offer is unconditional support. A student will not get kicked out, no matter how hard he or she tests volunteers. "They have to agree to join and their guardian has to agree and sign a lot of paperwork," adds Hemminger. "We tell students: 'Once you are in you cannot get out. This is serious. It's not something you can undo. You're going to want to undo this, but once it's happened, it's happened.'"
During high school, Eddie and his father were homeless on several occasions for extended periods. Over the years, he has lived with Tong and her husband, and with Rose and her husband. During his senior year, when he was applying for college, he lived in an abandoned house without running water and heat. Rose bought him space heaters and made sure he had a place to do laundry and get showered. When it came to doing homework, applying for college, getting up on Saturday morning to attend SAT practice, staying on track in college, Tong and Rose, and other Thread volunteers, have consistently shown up, encouraged or cajoled or dragged Eddie out of bed, reminding him of his goals and dreams.
He has helped them, too. Tong had immigrated from China, and Eddie's companionship helped ease her loneliness. When Rose's mother died in 2011, Eddie attended her funeral in Pennsylvania. "He was really there for me," Rose said. Now, when they get together, they talk about college and the future. "He's going to be uncle Eddie and teach my son all the things he knows," said Rose.
There were hard moments, too. "One day I got into an argument and said something real hurtful to Tong, and she started to cry," recalled Eddie. "I saw she was crying because she loves me. I had never had that. My mother wasn't even willing to cry when she was leaving me for a cocaine dealer. I was like, 'This relationship's real.'"
Another time Rose grew angry with Eddie for saying that he didn't think he was good enough for college. She threw her keys in frustration. Eddie recalled: "She was like: 'Eddie, we know you're better than everything you've been through in your life! We see it in you. Why can't you see it?'"
"You're not going to throw your keys at someone you don't care about," he added. "It gave me a family feeling — like a feeling of being wanted."
Rose commented: "It's definitely been challenging. Sometimes it's uncomfortable confronting someone about their work ethic or their behavior. But I think the challenge is one of the benefits. It's really rewarding when you start to see changes, when someone starts to become more self-aware and they see they have control over something they didn't realize they had control over before."
For Eddie, the value is clear: "If I wasn't in Thread, I would most likely be dead or in jail."
Eddie is an impressive person, but his story is not an outlier. He is one of 255 students who are enrolled in, or who are alumni of, Thread, a nonprofit organization with over 800 volunteers, most of them students from Johns Hopkins University. What they and the Thread students are achieving together deserves national attention.
Of the 176 students who have been in Thread for less than five years, 97 percent are still attending high school or have graduated. Of the 79 who have been in the program for over five years, 92 percent have graduated high school and 80 percent have enrolled in a two or four year college or certification program. (In Baltimore's public schools, only 72 percent of students graduate high school within five years.)
"I've been here for almost 30 years and before that I was in various public jobs and I can't think of another program that is as effective as Thread is, and that is as shattering of preconceptions," said Robert C. Embry Jr., the president of the Abell Foundation, who has provided support and guidance to Thread.
Referring to disadvantaged youths, he added: "A lot of people assert that if you don't get a child at 3 or 4 years old, or even at 1 or 2 years old, you've lost them. Here is a program that takes a ninth-grade child, not only low income but the poorest performers in their class, and gets them out of high school, which in itself is amazing." The fact that most go on to college, he added, is a sign that we dramatically underestimate their potential.
One of the ideas underpinning Thread is that poverty should be defined as a condition of isolation, not just a lack of money. "Relationships are the key things that bring about real changes," said Sarah Hemminger, who co-founded Thread with her husband Ryan. For the two of them, this insight has personal resonance.
As an adolescent growing up in Indianapolis, Ryan's home life began falling apart after his mother was badly injured in a car accident. She was unable to work, the family lost its home, and Ryan's parents later became addicted to his mother's pain medication. Ryan would come home from school not knowing if there would be anything to eat, or if the house would be cold and dark because the heat and electricity had been cut off. "School wasn't helping me meet my critical needs at the time, which was food, clothing and shelter," he recalled. In ninth grade he began skipping school and went from being an A student to failing most of his classes.
But he was fortunate. A group of teachers, led by Sargent Robert Lanam, the school's junior R.O.T.C. instructor, came together to help him. "I was the first Thread kid," Ryan recalled. "These teachers did everything they could: bought me clothes, paid utility bills, brought food to the house, and made sure I went to school." He started doing better, graduated, and later enrolled in the Naval Academy. Among other things, he has served as an officer on a submarine, worked as a financial adviser for Morgan Stanley, and now serves as the chief financial officer for the Baltimore City Health Department.
One day in 2004, during her first year of a Ph.D. program in biomedical engineering at Johns Hopkins University School of Medicine, Sarah found herself at a stop light in front of Dunbar High School. At school, she'd been feeling disconnected, not feeling she belonged. She imagined that some of the students in Dunbar High were like Ryan — and she thought she might be able to relate well with them.
She met with the principal and persuaded him to give her a list of ninth-grade students who were academically struggling and facing challenges outside of school. She recruited seven volunteers from school to help with tutoring. Today, 80 percent of that initial group — 12 of 15 students — have completed a four-year degree or professional certification program.
Today, the process has been systematized. Each student is connected to up to five volunteer "family members" who are led by a more experienced volunteer called the "head of family." Up to eight "heads of family," in turn, receive regular coaching from volunteer "grandparents," who report to Thread staff members. Everyone receives backup from resource teams specializing in academics, college preparation and various health, social and legal problems. This model allows Thread, which had operating expenses of $1.1 million in 2015, to grow cost-effectively, while maintaining the long term focus and high volunteer to student ratio, both of which are crucial to its success.
"Kids in extreme forms of poverty, often intergenerational, need multiple supports over multiple years, to make it," explains Robert Balfanz, a leading researcher who directs the Everyone Graduates Center at Johns Hopkins University School of Education. "Things can be going fine and then something happens. They get evicted, lose a job, a parent gets incarcerated. Those things are continually happening. So you can have a great year, then you have a bad year. Even after you graduate, there's a million ways to fall off track."
"The powerful things about Thread," he added, "are that they stay with kids over time and get them to adulthood, and the insight to have a group of people do this, so it doesn't become an overwhelming commitment for one person. Those are two powerful innovations."
"Thread has become a silent partner for our kids," explained Gregory E. Thornton, the chief executive of Baltimore City Public Schools. Its community is able to meet the needs of students in a way that high school teachers — who may teach 150 students — cannot, he said. "The only problem with Thread is it needs to be bigger."
There's another aspect to the work: What happens when so many diverse individuals and institutions in a city like Baltimore come together around a common mission?
"Thread has 1,000 to 1,200 people connected to it," observed Rodney Foxworth, the founder of Invested Impact, a nonprofit mission investment organization in Baltimore, who serves as a board co-chair for Thread. "That to me is where the real power is. As wonderful as the outcomes are, what brought me into Thread was the grander vision of a more equitable and inclusive city. We need great organizations to make change, but more than that we need movement making; we need a shift in perspective. Thread is going beyond the organization and building intersections between different communities."
Eddie Blackstone, 23, a graduate of Paul Laurence Dunbar High School who is now a junior at Towson University, planning to major in psychology, enrolled in Thread in 2007. "In my ninth-grade year, my mom walked out of my life, my dad had just gotten out of jail, I was in the bottom 10 percent of my class," he recalled. One day, a teacher told Eddie that a woman would like to speak with him. It was Hemminger. "She gave us a rundown of the program," he said. What initially caught his interest was her offer of free pizza.
One of the volunteers he made a strong connection with was Tong Zhang, who was pursuing a Ph.D. in immunology at Johns Hopkins University. "She wasn't overbearing," Eddie recalled. "She was like, 'I don't want to be all up in your business, but I would like to invite you to my house to play video games.'" Later, he grew close with another Thread volunteer, Rose Parkinson, Tong's friend who was also pursuing a Ph.D. in immunology.
"They are two opposite sides of the same awesome coin," Eddie recalled: Tong was "soft and loving"; Rose "damned if I'm going to let you fail."
Over the past nine years, Eddie recalled, his life has become interwoven with theirs. "People outside my race, age range, and blood family have become the people who are closest to me," he said.