CBS LA and LA Magazine Talk KIND Tuesday
Another KIND Tuesday has come and gone, and this time, your kindness has enabled us to deliver Thanksgiving meals to seniors in need! This big feat was impressive enough to capture CBS LA and LA Magazine's attention, as you can see from the great clips below.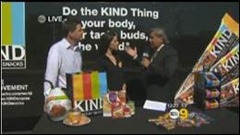 Spotted by Daniel Lubetzky, by Adeena Schlussel
A KIND Thanksgiving
Posted By: Taylor Norman · 10/31/2011 5:00:00 PM
The LA Regional Food Bank and KIND, a movement that challenges people to do one act of kindness for someone else, have teamed up to make this Thanksgiving special for hundreds of people in need. Under one condition.
Angelenos have until tomorrow (November 1) at midnight to sign up online and do just one kind thing for someone else. If 2,500 people rise to the challenge, KIND and LA Regional Food Bank will deliver hundreds of Thanksgiving meals to local senior citizens facing hunger.
Seems do-able—and totally worthwhile—to us.