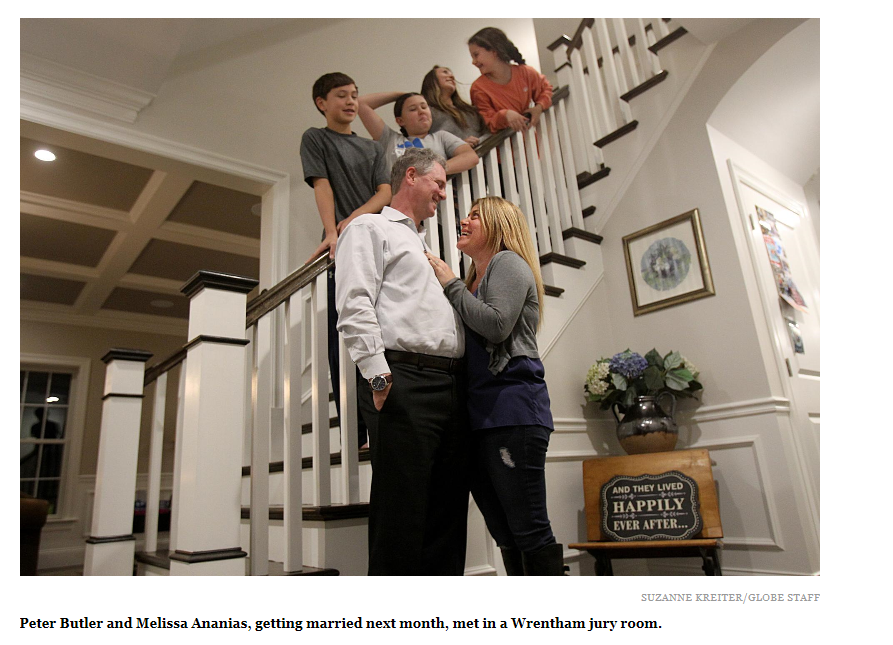 Boston Globe:  Finding Love in the Unlikeliest of Places
By Eric Moskowitz
WRENTHAM — Even by the standards of jury-assembly rooms, the basement space at Wrentham District Court is grim, calling to mind a driver's ed classroom or maybe an interrogation den, with exposed pipes, stained carpeting, and bleak lighting.
Suffice it to say, it was not where Melissa Ananias or Peter Butler expected to find love — or, for that matter, where anyone has expected to find it. Ever.
On that Tuesday morning, two years ago in October, Melissa arrived uncharacteristically early. Pete, uncharacteristically, cut it close.
She was 45 and had been divorced eight years, a single mother from Needham with two daughters in elementary school. Match.com, JDate, blind dates, she had tried them all, dismissing most guys quickly, not one of them ever reaching the point of meeting her girls.
Pete was 44 and also had two kids. Divorced officially for 21 days, he was was trying out Match.com; only later would he realize he had seen Melissa already, quickly clicking past her because she had two cats. He was allergic.
But now she stood out to him amid the groggy faces as he ducked through the low doorway. She noticed him, too — tall and blue-eyed, in a crisp dress shirt and fleece — but tried not to stare, turning back to her book. Why not, he thought, as he walked past rows of empty seats and picked the one beside her.